AN EXCLUSIVE INTERVIEW BY MERCOHISPANO.COM WITH THE CEO OF METROHEALTH SYSTEM REGARDING THE REQUEST FOR MORE FUNDS FROM THE COUNTY, THE COMMISSIONERS ANSWERS AND THE IMPACT THAT THE LACK OF FUNDS WILL HAVE ON SERVICES TO HISPANIC
S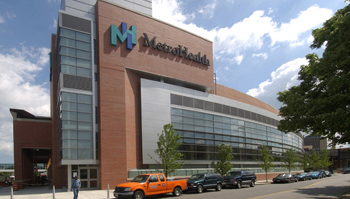 By Hugo Urizar
recursos@mercohispano.com
Considering the important role that MetroHealth plays in the lives of many Hispanics within Cuyahoga County, www. mercohispano.com wanted to find out first hand the position of the Hospital regarding the possible shortage in operating funds for the year 2005, and how it will affect services to the general public and to Hispanics in particular. For that, www.mercohispano.com had an exclusive interview with the CEO of MetroHealth Mr. John Sideras.
www.mercohispano.com : What's MetroHealth annual total operating budget, and what are your sources of income?
John Sideras : This year, our expenses will total almost $600 million. About $125 million (20 percent) of that cost is free or charity care we give to Cuyahoga County residents who can't afford to pay the full cost of their health care. Our income comes from commercial health insurance, Medicare and Medicaid-just the same as any other hospital.

www.mercohispano.com : Since MetroHealth is a County Hospital, what percentage of your total budget comes from Cuyahoga County, and what percentage of the county budget is allocated to MetroHealth?
John Sideras : This year, the county provided 4.5 percent of our budget. This week (December 2004), the County Commissioners approved an increase of $810,000 taking the 2005 total support to $27.8 million.

www.mercohispano.com : How much more money are you asking the county to contribute to MetroHealth for 2005, and how is this increase related to the successful passage last year of Issue 15?
John Sideras : We are still $14 million short of the amount we need to continue operating all the services we have now. Though we are deeply disappointed, we have reason to hope. The County Commissioners have agreed to explore four options we proposed that would fully fund MetroHealth.
1. The possibility of issuing non-tax revenue bonds to support the capital needs of MetroHealth. We believe that there is an urgent need for the County to approve the sale of these bonds while its bond ratings remain at an attractive level. The revenue from these bonds would allow MetroHealth to replace Skilled East; and to move forward in redesigning the old Deaconess Hospital (now MetroHealth South) to accommodate geriatric and long-term care services to meet growing patient needs. The revenue would further allow us to continue to invest in our community health centers and new technology and services.
2. To develop a new health benefit plan for the 8,500 Cuyahoga County employees and their dependents that would allow them more direct access to MetroHealth physicians and facilities for their medical care. We believe we can provide savings to the County by offering more competitive health care benefits, and improve access and the coordination of care for County employees who would join this new MetroHealth network. We would hope that the savings generated for the County would be dedicated back to MetroHealth operations.
3. The County will conduct an independent appraisal of the 110 acres of land it owns, currently housing MetroHealth's Skilled East facility. The County would consider the sale of this property after Skilled East is replaced, with the proceeds potentially applied to the liquidation of the bond issue discussed above.
4. A capital levy dedicated to MetroHealth will be considered for placement on the ballot, with the millage yet to be determined and election date yet to be specified.
www.mercohispano.com : We know that the Hispanic Community strongly supported Issue 15 last year, and that MetroHealth Staff Members worked diligently for its passage. Do you believe that the Commissioners are not delivering on the promises they made to MetroHealth during the campaign?
John Sideras : We recognize and appreciate the time and energy the Commissioners devoted to our discussions over the last several months, but we are dismayed at the lack of progress at this point. We look to a new Board of Commissioners and a new year to inspire a sense of urgency regarding MetroHealth's need for support. We are committed to collaborating with the Commissioners on the common objective, and we are more than willing to consider innovative solutions like those outlined above; but we must expedite the process to find short-term relief and longer-term answers to the financial issues facing MetroHealth.

www.mercohispano.com : How many people does MetroHealth provide medical services for per year and from those how many are Hispanics?
John Sideras : We take care of more than 28,000 in our hospital and we see hundreds of thousands in our Emergency, Outpatient, X-ray and other areas every year. We track some very specific demographic information on our patients, but we don't ask about ethnicity. I can tell you that Spanish is one of the most requested translation services we offer.

www.mercohispano.com : What are some of MetroHealth programs and services that benefit Hispanics the most?
John Sideras : We are national leader in stroke care, rehabilitation and back-to-work services, senior health care, trauma, and community health. We also provide high quality care to mothers with high risk pregnancies and pre-mature babies. All these are special services that, in many cases, can't be obtained anywhere else in Northeast Ohio at the same level and quality of care we have here at MetroHealth.

www.mercohispano.com : Can these programs and services be affected, and how, if you do not receive the amount of money you are asking for from the County for MetroHealth 2005 ?
John Sideras : Yes, some of our services may be affected unless the County works with us to quickly implement the four strategies I told you about earlier. Yesterday, MetroHealth's Board of Trustees asked me to take any steps we must to prevent running in the red during 2005. We may be forced to reduce the volume of patients seen in the emergency room to alleviate the pressure on medical staff and reduce operating losses. These changes would be made without impacting our accessibility for people who are burned, have strokes or are injured in traumatic accidents. We may also freeze hiring and stop filling vacant positions. The Board of Trustees also directed me to work collaboratively with the Commissioners during the next 45 days to pursue and further develop the initiatives listed in the Commissioners' resolution.
www.mercohispano.com : When we talk about the uninsured and the underinsured, are these people generally American citizens and legal residents who cannot afford the high cost of health insurance?
John Sideras : According to Families USA, 1,247,200 Ohioans don't have health insurance. That is 13 percent of the population, and many of these uninsured Ohioans have at least one member of the family working 40 or more hours per week. MetroHealth requires that anyone who is asking for help applying for federal or state health programs and those who want to apply for our sliding fee scale provide some documents: proof of residency in Cuyahoga County (federal and state programs require proof of citizenship), proof of income, birth certificates to prove family size and either the previous year income tax form or proof that no income tax needed to be filed.

www.mercohispano.com : Do you have any statistics of how many Hispanics without health insurance use MetroHealth services every year?
John Sideras : We track some very specific demographic information on our patients, but we don't ask about ethnicity. In 2005, we expect to provide $125 million in charity services to Cuyahoga County residents. That figure is $25 million more than we provided in 2004 and is one major reason we asked the County to increase their support to MetroHealth.

www.mercohispano.com : Usually, people without health insurance use emergency room services, is that correct? If so, what will be the impact on services in the ER if you do not get the increase requested from the County?
John Sideras : Actually, if people arrive at our Emergency Department and really need a regular doctor rather than an emergency room, we set them up with one of our family doctors. That way, people can develop a long term relationship with a doctor who knows all their problems and can help them manage everything from weight to blood pressure to diabetes. At MetroHealth, you don't have to use the Emergency Department for flu, colds, back pain or other every day issues. Just call one of our Community Health sites or our outpatient clinics and set up an appointment to meet one of our doctors. As for the impact of funding on our ER, we expect to reduce our visits so we can minimize the losses that will result from our $14 million county funding shortfall.
www.mercohispano.com : What could Hispanics who believe in MetroHealth do to help your cause?
John Sideras : We received more than 16,000 signatures, letters and postcards that we delivered to the Commissioners. While we work through the four options I described above, I'm asking supporters to continue writing and talking with our Commissioners to let them know how valuable MetroHealth is to you and your family. We have fact sheets available, both on paper and electronically. If you'd like a copy of our information, please call 216-778-5798 or e-mail nburke@metrohealth.org.