Shaker Heights lawyer who donated to Trump headed to prison for voting twice in the same election year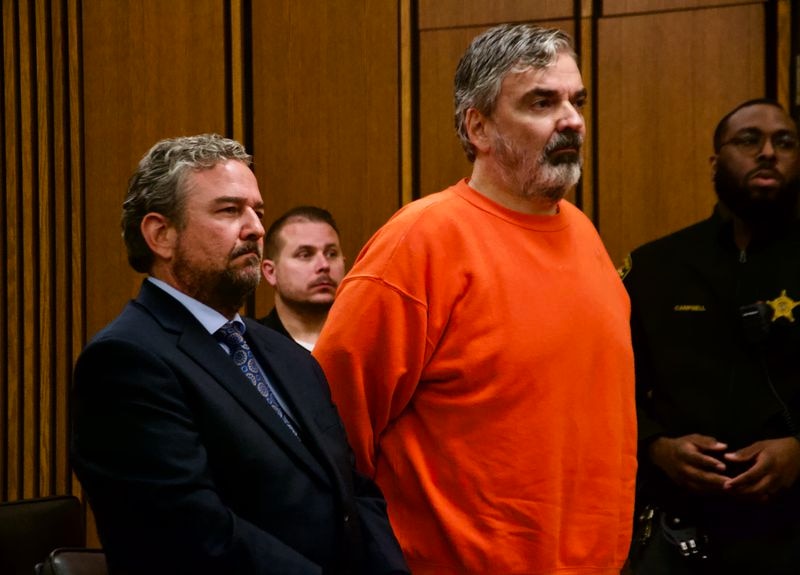 James Saunders, in orange, listens as Cuyahoga County Common Pleas Court Judge Andrew Santoli sentences him to three years in prison for illegally voting in both Ohio and Florida in the 2020 and 2022 general elections.
CLEVELAND, Ohio (August 28, 2023) - Cuyahoga County Common Pleas Court Andrew Santoli sentenced a Shaker Heights attorney to three years in prison for voting in Ohio and Florida in the same election year in the last two general elections, 2020 and 2022.
Cuyahoga County Common Pleas Court Andrew Santoli called 56-year-old James Saunders' actions "purposeful, intentional and cavalier" in handing down the maximum sentence. Santoli also fined Saunders $10,000.
Saunders told Santoli before learning his sentence that he no longer planned to vote. He also said that because cases of voter fraud are rare, making an example out of him wouldn't do much good.
"My voting days are behind me," Saunders, whose family is from London, said in a British accent.
According to federal campaign finance filings, Saunders made multiple small donations to former President Donald Trump's campaign and super PACs that back GOP candidates.
Cuyahoga County Prosecutor Michael O'Malley said after the hearing that Saunders' case was the only example his office has seen of someone blatantly violating the state's voting laws.
"He thought the rules didn't apply to him," O'Malley said. "He found today that they do apply to him."
Santoli denied a request from defense attorneys to delay Saunders' prison sentence until after he appeals his conviction.
Santoli found Saunders guilty of two felony counts of election fraud last week following a one-day trial held in July. Three witnesses -- elections officials from Cuyahoga County and Broward County, Florida, and an Ohio Bureau of Criminal Investigations agent who examined the case -- testified that Saunders cast ballots in Florida and Ohio in each election.
Records showed that Saunders also illegally voted twice in the 2014 and 2016 general elections, but prosecutors said they could not charge him for those votes because the statute of limitations had passed.
Santoli also ordered Saunders to repay the Cuyahoga County public defenders for their representation of him. Saunders, whose attorneys said enjoyed "a life of wealth and privilege" and lived off money his parents left to him in a trust fund, did not qualify for a taxpayer-funded lawyer.
Hurley asked Santoli to "grant [Saunders] the privilege" of a probation sentence.
Santoli rejected that argument. Instead, he held that Saunders ought to be held to a higher standard because of his position as an attorney.
"You know what the laws are and know exactly what you can and cannot do," Santoli said.
To comment on this article go to: Un abogado de Shaker Heights enviado a prisión por fraude electoral / Shaker Heights lawyer headed to prision for election fraud